Saturday, February 4th, 2017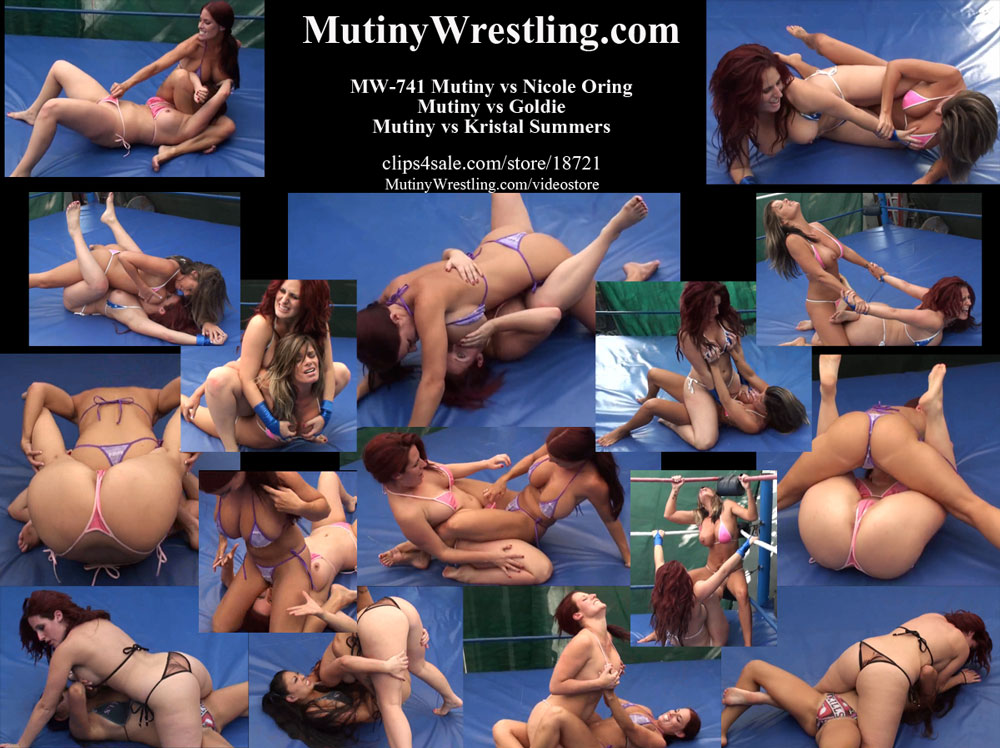 and again, you can be jealous, I wrestled the sexiest ladies in the wrestling business!!!! 36 min of fighting for 14.95$! 3 matches!
MW-296 Nicole Oring vs Mutiny FULL VIDEO

FULL VIDEO Semi Competitive wrestling vs the sexy
Nicole
Oring!MOstly scissors…but I finally got rear naked choke, I got her in a grapevine, i smothered her with my breasts and I got her in a ankle lock! everytime we wanted to do something, the other one had the same idea…we are the same type of wrestler, so we knew what the other one was going to do….
Nicole
is wearing a ed hardy bikini and im wearing a shiny spandex bikini!
MW-299 Mutiny vs Goldie BREASTS smothering
TOPLESS
Goldie has huge boobs, amazing boobs in fact…and she mostly tried to smother me with them…we are both scissoring each other, we are straddling each other until she always gets to the point where she can put her boobs in my face and try to make me pass out! At this point, only one of my boob is out!…she really put me in very humiliating positions…showing my ass to the camera … PART 2. Goldie and I are still wrestling but shes smashing her boobs in my face, she is grabing my thong to distract me…rubing it on my clit to release holds, we are both scissoring each other, until we got each other in a bearhug…her breasts are HUGE…how can I dominate a bearhug with her!? youll see my boobs squashed by hers…real hard…in a long bearhug at the end of part 2 PART 3. In this part, Goldie is very taking control of me. She is stretching my legs while grabing my pussy, grabing my boobs…and even if Im grabing her big tits, she doesnt let me go. She exposed my ass again to the camera…until her breasts were totally covering my face. She was completly topless smothered me until I passed out…. she woke me up…eventually after doing some victory poses (topless) on my helpless body…and made me pass out again with a long breasts smothering…and did some more victory poses while sitting on me.
MW-297 Mutiny vs Kristal Summers SEXY WRESTLING Full Video
FULL VIDEO Kristal summers is SO SEXY! I never though i would wrestle a HOT PORN STAR like that one day!!! Shes got a perfect body and great boobs! she is wearing a very small bikini thong and Im wearing a bikini thong too. Im losing my top very fast and we are grabing each others boobs and crotch…this is a very sexy light wrestling match… Kristal's got one BOOB OUT NOW! and shes using her nipple and her whole boobs to smother me!!!!!!!!!!!!!!!!!! but I still got her in a very good headscissors! In the third part of the match..she got me in a wedgie and kept it and pulled it some more and she really pissed me off! so I got way more agressive…and I started to punch her pussy, punch her stomach, grab her boobs and crotch….I even put my foot in the crotch and squashed her boobs….she couldnt do anything….at the end she was quite helpless…couldnt defend herself…thats how I like them! helpless and so sexy!

she still had a boob out…how humiliating for her!
Length: 36 minutes
Size: 414 MB