Thursday, August 8th, 2013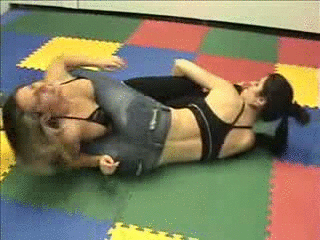 Old video (2006) I found that is very good…never posted here!
We are both started on our knees this time and you can really feel the intensity of the match. Im always smiling, but still focused and Ivanna is extremely serious. Once or twice, she seemed to wanna quit and just leave the mats because Im reversing her moves and escaping her holds. She hates when Im in a good mood…obviously! sexy scissors, sexy holds, some chokes, and Im always jumping back on her to wrestle some more. At the end, I got a grapevine and mixed it with breasts smothering…she got really upset and I got even happier! You can see Im really proud of myself!
LENGTH : 7 min
Free Sample Clip
Add "MW-26_CL02″ to Cart — $5.95