Tuesday, March 26th, 2013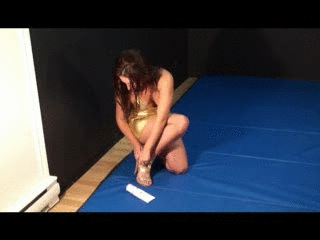 So I'm getting ready for a night on the town. I'm dressed in a spectacular little golden dress. The shiny Spandex hugs my body like a second skin and my golden heels make my legs look really nice. You know how this is, right? A girl wants to look her best for her boyfriend. So you'd think the boyfriend would reciprocate, right?
Wrong!
Entropy shows up dressed like a douche, and there's no way I'm being seen in public with him like this. I ask him to change (nicely), and he flat-out refuses. So I make him understand the dress code by squeezing him in a wide variety of my scissors—including a nice reverse scissors with my G-string-clad butt straight in his face—until he decides it's best for him to see things my way.
FREE Sample Clip ( NOT HD quality for faster download)
Add "MSC-06″ to Cart — $9.95
View Cart