MW-357 XXX Mutiny vs Entropy UNCENSORED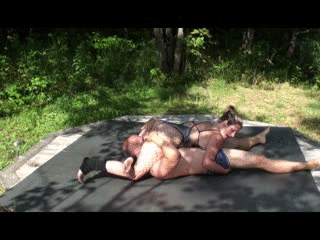 This is the most sexual match I did with a guy so far. I wasnt sure if I should post it because I didnt want to go that far on my websites. As you all know, wrestling can get sexual. In this match it did. Just for fun, before the match (off camera), we agreed on something. We said : the one that will be in control and make the other one submit the most or get the other one in a hold that makes it impossible to get out, well, would be the winner. The winner would have the right to ask for any favor, or to do whatever they want with the other one…and the other person wouldnt have the right to move, except if the winner said so! In my head, I was thinking about : you'll do my laundry, or youll make the dishes..something like that! But after so many wedgies (thats what he did to me) well, it kinda got a little intense. I was still holding him with a reverse head scissors and he couldnt get out. He knew I was in control, he couldnt do anything, so I was the winner. I started teasing him, I was in the perfect position! I used my naked breasts, hands, mouth… Until the time I had what i wanted. I wanted to show him I had total control of his body! and he couldnt move! we agreed on that before the match!
It wasnt suppose to go that far and I want to specify that I have a special relationship with Entropy. I will NOT do that in sessions. This is a video, in my backyard and nobody was behind the camera. I felt like that at the moment, but I dont want to start receiving emails for sessions like that. This is NOT what I offer.
The UNCENSORED clip is on sale on my VIDEOSTORE or my clips4sale
PS : There is no penetration in that video (before everybody ask!) . Only wrestling + extras HJ-BJ.
The CENSORED version of this match will be in my member section on Sept 17th. The Uncensored version WILL NOT be in the member section.
Add "MW-357XXX" to Cart — $19.95
Tags: entropy, Mixed Wrestling, Mutiny, wrestling, xxx