Tuesday, December 20th, 2016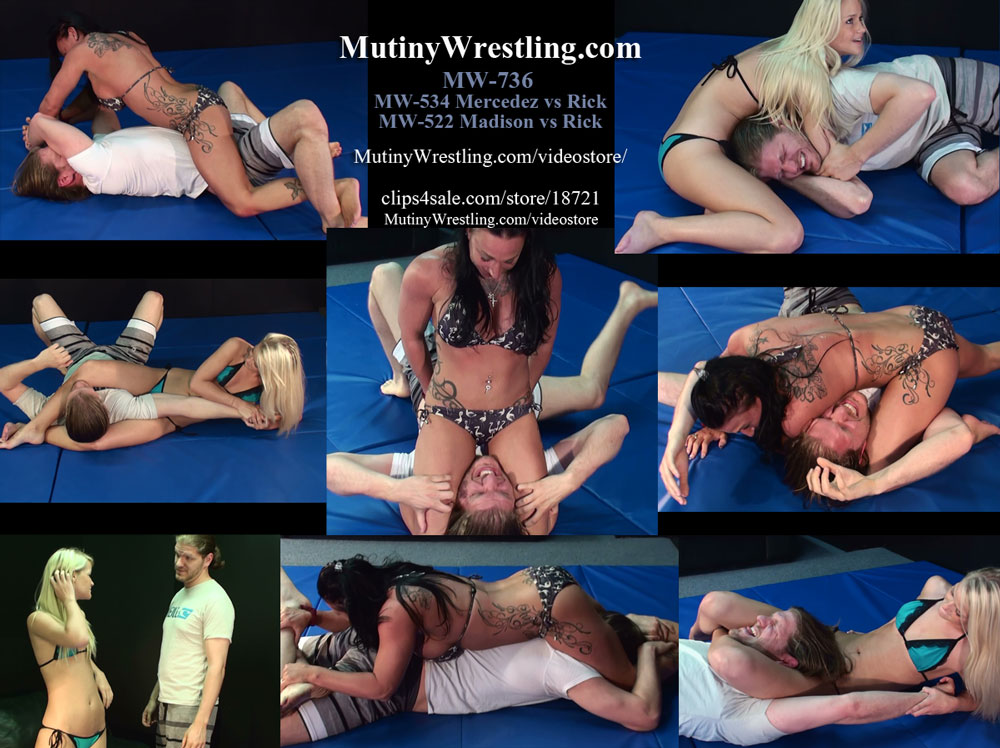 Buy 2 videos for a special price!
FIRST VIDEO MERCEDEZ VS RICK Part 1 : If you like the girl being in control and not giving a chance to the poor guy, you will like this video. You will like it even more if you like strong and muscular girls destroying a cocky taller guy. Poor Rick is offering his services to Mercedez. He wants to help her get better at wrestling. She agreed and took him down right away. Chokes scissors. You see that Rick is really freaking out. He is panicking and he didnt expect that at all. Headscissors, bodyscissors, chokes, grapevines, etc. He couldnt escape anything. He is taping out, and taping out…Part 2 : This is getting worst and worst for Rick. He is still trying to be cocky from time to time but he scissors are getting stronger. She is so powerful and you can see the muscles in her legs when she is squeezing his neck. She is smiling, and he isnt. He really cant escape her scissors and she is more confident now. As I asked her to do, she is obviously planning on making him pass out with a reverse headscissors! reallllly tight one!
SECOND VIDEO MADISON VS RICK
FULL VIDEO : Part 1 : I caught Madison and Rick talking and I didnt know who was flirting with who. I grabbed Madison's hair and forced her to wrestle me in the garage. She destroyed me and made me understand that she wasnt flirting with Rick (MW-513). I made a deal with her, since Rick was flirting with all the girls, I told her id pay her to kick his ass. She agreed and he met her in the garage. She pretended to be interested and she grabbed his neck right away. Scissors, full nelson, chokes, arm bar, single leg boston crab, etc. Rick is already not the best wrestler! she got him good! Part 2 : Madison is in control and Rick is getting weaker! more scissors, more chokes and her only goal was to leave him there, out on the mats, like Mercedez did too, not long before her!
TOTAL LENGTH : 21 min
BUYT THE 2 MATCHES FOR A SPECIAL PRICE : Add "MW-736″ to Cart — $14.95