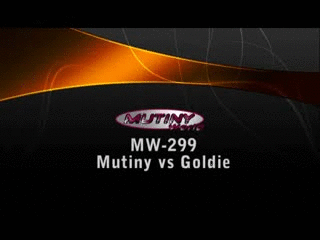 The amazing Goldie accepted to do a match against me. Everybody told me her boobs were big…but I never thought they would be that huge. She is soooo sexy!!!!  shes got an awesome body…and her boobs are just perfect!
Part 1 : Goldie has huge boobs, amazing boobs in fact…and she mostly tried to smother me with them…we are both scissoring each other, we are straddling each other until she always gets to the point where she can put her boobs in my face and try to make me pass out! At this point, only one of my boob is out!…she really put me in very humiliating positions…showing my ass to the camera
Part 2 : Goldie and I are still wrestling but shes smashing her boobs in my face, she is grabing my thong to distract me…rubing it on my clit to release holds, we are both scissoring each other, until we got each other in a bearhug…her breasts are HUGE…how can I dominate a bearhug with her!? youll see my boobs squashed by hers…real hard…in a long bearhug at the end of part 2
Part 3 : In this part, Goldie is very taking control of me. She is stretching my legs while grabing my pussy, grabing my boobs…and even if Im grabing her big tits, she doesnt let me go. She exposed my ass again to the camera…until her breasts were totally covering my face. She was completly topless smothered me until I …. she woke me up…eventually after doing some victory poses (topless) on my helpless body…and made me pass out again with a long breasts smothering…and did some more victory poses while sitting on me.
Categories:
Member's Section
,
Member\'s Section
,
Video Pages
Tags:
accent
,
big
,
bikini
,
boob
,
boobs
,
breast
,
breasts
,
goldie
,
mutiny
,
mutiny wrestling
,
squeez
,
thong
,
topless
,
touch