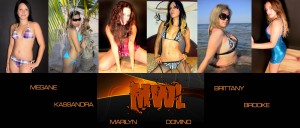 Theise are the girls available for custom videos.
My mom cant do it for now, she injured her back while ago and she doesnt seem to recover properly, so she cant wrestle for the moment, this is why shes not on MutinyWrestling or MWL. She might be able to do MutinyScissors, MutinySpandex or one of the new websites…but we dont know yet.
All the girls can do fantasy wrestling, but not all of them will do competitive.
Tell us what you would like and we'll see what we can do!
Im leaving 3 days for Boston and after that Ill be home until january to do custom videos and shooting for the new websites, so its th ebes ttime for you to ask!!!
IF IM IN THE VIDEO AND CAN USE THE VIDEO ON MY WEBSITE YOU CAN TAKE OF 150$ OF THE ORIGINAL PRICE
12-15 minutes  350$
20 minutes        420$         
30 minutes        520$ 
45 minutes        720$
US$
BEFORE SENDING ANY MONEY YOU HAVE TO WRITE ME FIRST
Paypal : marilynstdenis@hotmail.com