I did all my updates in advance for the first time in 7 years in the business and finally I just realized it didnt work so you didnt have any update in the last 2 weeks. Im so deeply sorry, I will add long and very good videos to make sure you forgive me!!!
This is a match I did 3 years ago and I never uploaded it on my website because I didnt know how to convert VOB format!
This is a VERY INTENSE CATFIGHT + WRESTLING. 23 min! topless action! Im in a thong and Jenny's got a VERY SEXY ONE PIECE THONG! she is so hot in that outfit.
We really dont like each other and you can feel/see it in the video. This is one of the most intense catfight I did…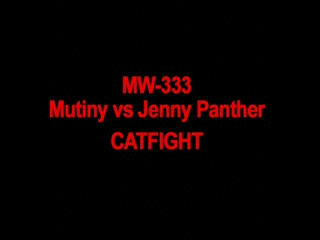 MW-333 Mutiny vs Jenny Panther INTENSE CATFIGHT + WRESTLING
This is one of the most intense CATFIGHT I DID! There is a "love" story behind all that, she is flirting with my "bf" and I get very jealous. I slaped her hard in the face several times, she was surprised but she replied too. Its very intense, very rough. She scissored me, choked me, and I did the same. we slaped each other's face really hard many times. slaped our bodies…and both tried to undress the other one. Im wearing a schoolgirl skirt with a small bikini top while shes wearing a one piece thong with a skirt over it. I ended up TOPLESS with a very small thong and same for her. She smothered me with her huge breasts, I sat on her face, she squeezed and twisted my nipple…and I made her pay for that…she got me good with scissors right on my throat…and she even threw a glass of water in my face… I almost lost it..well, in fact, I did…but she still got me good. I really fought back really hard in that match…