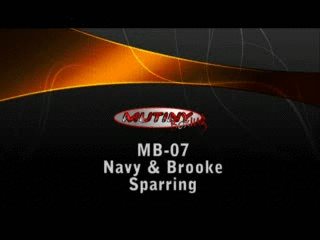 MB-07 Brooke vs Navy
Brooke never wore boxing gloves! It was her first time she would punch somebody with gloves, she was really anxious but she really wanted to try! Navy swore to go easy on her and they decided to do some sparring! She is wearing a very sporty but sexy blue outfit. Sporty top and shorts!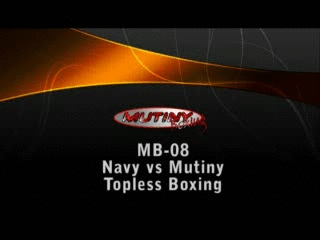 MB-08 Mutiny (TOPLESS) vs Navy
I decided to challenge Navy to another boxing match…he was standing on my mats and I thought, well, Im pretty sure he wont be able to do anything if we agree to a topless boxing match. When Ill take off my top…he will just look down and wont think about losing because he wont be able to concentrate…
yeah, this is exactly what happened…he had trouble to look up, let his guard down…and I took advantage of it!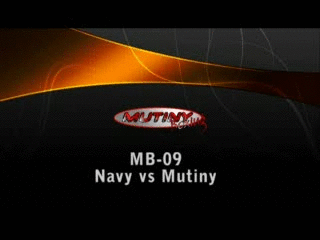 MB-09 Mutiny (bra and panties) vs Navy
If you dont want to see me win, dont look at that one! Im wining over Navy!! very intense fight…I was about to do some sparring with entropy, so I was wearing sweat pants and a sweatshirt, but Navy showed up! I took off my clothes and striped down to bra and panties! Of course, Im so proud, Im a little cocky and ended up doing some victory poses!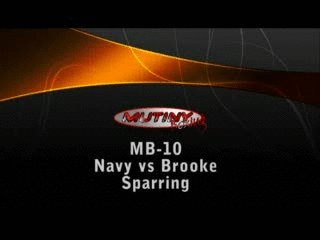 MB-10 Brooke vs Navy
Brooke wanted to try some sparrnig again against Navy!
I wanted her to try against me, but she wasnt sure!!! So next tmie she will do some sparring it will be against me!
she is so sexy and perfect even if she is tired and sweaty!!! she's amazing and she is getting better and better!
Cant wait to kick her ass tho!!!
http://www.mutinywrestling.com/private/videos/Fights/Mixed/MB-01.wmv
Categories:
Member's Section
,
Member\'s Section
,
Video Pages
Tags:
Boxing
,
brooke
,
gloves
,
lingerie
,
mutiny
,
navy
,
punch
,
punches
,
sparring
,
sport
,
sporty
,
topless