On June 25th of this year, I wrote on facebook and on clips4sale about this new neighbor of mine. This is what I wrote :
Last year, I moved to Val-Morin and I got the place I always wanted. I wanted to get a tan naked in my backyard if I wanted to. I wanted to be able to shoot my videos outside, even if I was topless…
I have a lot of trees so I thought everything would be great….
All my neighbors are men…so it was wonderful…they all know what I do and are very happy about it!
but a week ago, my neighbor Richard came and asked me if it was possible not to shoot videos outside on weekends. this is when his new girlfriend is visiting him…
so he asked me if it would be possible to only shoot in my garage during the weekend…
I know I know….youll say : my wife would freak out too…Mutiny you should listen to him…he'll get in trouble..blah blah blah..
I know! I should only shoot in my garage…during the weekends…
to avoid problems with my neighbors…
BUT….who knows!? maybe shes cute and will enjoy it and she'll want to wrestle?! LOL
or maybe she'll be really jealous and will want to punch me and she,ll have a surprise when she,ll try…LOL
ok, maybe nothing of that will happen…but i see interesting things in my future now…
because this weekend..Im planing to shoot BIG TIME in my backyard…
and im planing on being LOUD! LOL
————————————————–
This is what I wrote. D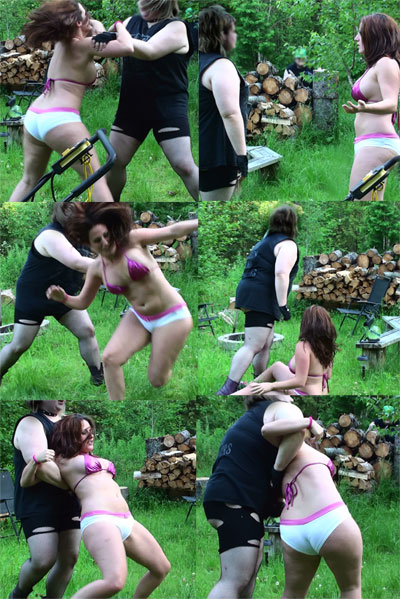 o I regret it?! No…but this is not what  I expected…at all.
She's really not a nice person. She's been on my case for 2 weeks now…
Everywhere i go, she's following me…
If I shoot in my garage, I have to lock the door or she'll come in…
Her boyfriend is begging me to wear more clothes at home or when I work out outside. He's asking me not to get tan durnig the weekend…
but at the same time, this is when all my friends are off and this is when we can have fun.
Even if I try to make them happy, she always finds something to say.
This is not a match, but one of the times she came to my place to tell me to get dressed…
Her boyfriend is watching in the background…