SignUp
Become a member of Mutiny Wrestling today and you'll have full access to a wide range of female and mixed wrestling clips, exclusive photo galleries of Mutiny and her friends, and benefit from special saving offers available to members only.
You'll get full access to all the videos in crisp HD video.
The website will be updated weekly with exclusive material featuring the gorgeous Mutiny and her guests.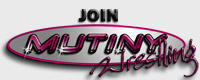 To cancel your subscription, please visit https://support.ccbill.com. Make sure you have two of the three items listed here:
• The email address you gave when you signed up
• Your credit card number or your routing & account number if you paid by check
• Your subscription invoice number.